Ik maak veelal vleeskleurige nylonobjecten omdat het materiaal zacht, aaibaar en snel te vormen is. Door de bewust gekozen vleeskleurige nylon krijg ik het gewenste organische effect.

Als kunstenaar wil ik geen verhaal uitdragen, de nylonobjecten zijn wie ze zijn en ieder die ze aanschouwt , ervaart ze op zijn of haar eigen unieke manier en die ruimte wil ik juist scheppen.

Ik wil wel de toeschouwer uitdagen om goed te kijken , zich te verwonderen en te voelen van binnen. Sommige mensen zullen met angst en afschuw kijken en andere krijgen juist de drang om het nylon aan te willen raken. Dit zegt veel over de persoon zelf die er naar kijkt. Dat is een waanzinnig gevoel dat ik dat via mijn nylon kan losmaken.

In mijn nylonwerk staan lichaamsdelen van het menselijk lichaam altijd centraal, de nylonobjecten kunnen portretten zijn maar ook alleen herkenbare lichaamsdelen zoals armen, benen, borsten en geslachtsdelen. Nylonbeelden al dan niet met of zonder hoofd.
Tijdens het maakproces van een nylonobject laat ik me leidden door de vormen die het materiaal mij als het ware kado geeft doordat ik in de nylon kneedt en naai met rood naaigaren .. deze vormen ervaart men ( de mens in het algemeen) als misvormingen. Voor mij zijn het vormen met zoveel kracht, kwetsbaarbeid en stilte te samen en zo inspirerend dat ik ze juist laat zijn zoals ze ontstaan en verander daar niks of heel weinig aan.

Tuurlijk glijden als vanzelf ook mijn eigen op dat moment aanwezige gedachten's , levensbeleving en gevoelens er in mee.
De toeschouwer hoeft deze gedachtens en gevoelens van mij niet te ervaren. Dat is voor mij niet van belang mede doordat mijn gedachtens/gevoelens persoonlijk zijn maar wel zeer menselijk. Het zijn verlangens naar vrijheid, lef, aandacht, erotiek, angst , geborgenheid, jezelf willen verstoppen, openheid, kwetsbaarheid en het zijn ...
De nylonobjecten laat ik los als mijn instinct dat mij verteld, daarna gaan de nylonobjecten hun eigen leven leidden.
Rosa Verloop ( 1965)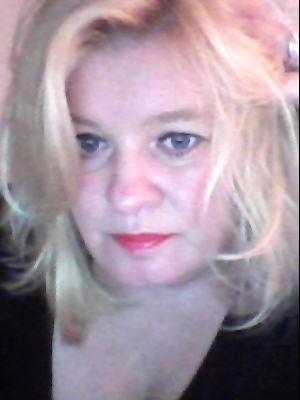 I usually create flesh-coloured objects made of nylon, because this material is soft, cuddly and easy to shape. Due to the deliberately chosen flesh-coloured nylon I obtain the desired organic effect.
Being a visual artist, I don't have the intention to spread a story or message. My nylon objects are who they are and everyone who beholds them, experiences them in their own unique way. That is exactly the area of freedom I wish to create.
I do wish to challenge the people though to have a concentrated look, to be surprised and to be conscious regarding feelings that arise inside themselves.
Some people will perceive with fear and disgust. Others will actually feel an inner urge to touch the nylon. This tells a lot about the person who looks at my objects. It's therefore an insane feeling, which I can create in people through my nylon objects.

Parts of the human body always occupy a central role in my nylon creations. The nylon objects can be portraits, but also sole recognizable body parts like arms, legs, breasts and genitals. The nylon sculptures can be with or without a head.
During creation of a nylon object, I'm guided by the shapes which are given to me by the material itself as if it's a present, because I mould the nylon and sew it together with red sewing thread.
People in general experience these shapes as a deformation of the human body. For myself however, these are shapes with so much power, vulnerability and silence together – and therefore such inspiring – that I leave them in the way they came into being. I don't change anything to these shapes or only very little.

Obviously and naturally are my own thoughts, perceptions and feelings present during creation of the objects. The people don't have to experience these thoughts and feelings. That is of no interest to me, partly because my thoughts and feelings are personal, although fully human. These are desires to freedom, courage, attention, eroticism, fear, security, the urge to hide yourself, sincerity, vulnerability and just "to be"…
I let go the nylon objects once my instinct tells me to do so. After that they are free to lead their own life…


Rosa Verloop ( 1965)